February 25-27, Colorado Bend State Park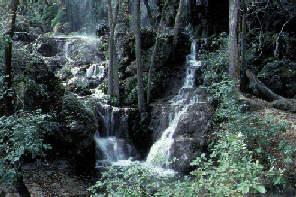 Colorado Bend State Park, a 5328.3-acre facility, is located west of Lampasas, Tx in San Saba and Lampasas counties. The park currently offers the outdoor enthusiast access to primitive camping, hiking, fishing, which at certain times is terrific, swimming, mountain biking, birding, and nature watching, and guided tours. When Lake Buchanan is near normal levels, the river is navigable from the park's boat ramp all the way to the lake, approximately 10 miles. This is a trip on slow moving water through the beautiful canyon lands of the Colorado. Other day activities include guided tours to Gorman Falls and guided, wild cave tours, both walking and crawling. Also, due to various hazards in the caves such as low oxygen levels and poisonous gases and the fact that the caves are a non-renewable natural resource, ALL CAVES in the park are closed except through guided tours. Reservations are highly recommended for the cave tours due to the limited number of people which can be taken on any given tour. Contact the park to make reservations and check questionable weather conditions. Substantial footwear is recommended for all tours. Gorman Falls Tours 10 a.m. & 2 p.m. Saturday; 10 a.m. Sunday (weather permitting) Gorman Cave Walking Tours 9:15 a.m. Saturday and Sunday (resource and weather permitting) Crawling Cave Tours 1:30 p.m. First Saturday of each month (resource and weather permitting)
Click on thumbnails for larger view:
We finally reached the park entrance after a 10 MILE trip down a dirt road.



Fisherman wading in innertube fishing in Colorado River. The park is relatively new and still almost undiscovered.


Steep bluffs rise up into gently rolling uplands. If you like quiet and no crowds, this park is for you.


We walked along a narrow wooded floodplain lining the river. Very little development has been done to date; roads are still unpaved and the formal campground has only tables and chemical toilets.


Ranger-led hike to Gorman Falls (the only way to see it). Ranger explaining formations of travertine in Gorman Creek.


Deb on overlook. Colorado River on her right, the top of the falls on the left (out of picture).


The hike down to the bottom of the falls is the roughest part - er, maybe the hike back up is the toughest.


It is about a mile down to where the creek joins the Colorado River. Our first glimse of the falls (is this all there is??).


The ranger wouldn't let us get any closer than this. "Don't wanna trample the travertine. It's livin' rock and still growin', you know".


The flow is constantly being altered by the changes in the travertine, flooding, etc. Pretty underwhelming, huh. Still for Texas... Other than the rainy run-off falls in Big Bend, I'm not aware of any "permanent" falls exceeding Gorman - in Texas.

email me: backpackingtexan at yahoo dot kom


Return to Homepage.




View My Guestbook
Sign My Guestbook